Get the most out of your virtual time with your team.
Leading a Zoom meeting or facilitating a virtual presentation should not be a daunting task. We've put together some guides for you to use as a resource as you navigate the world of online meetings. Whether you're a seasoned pro or brand new to virtual meetings - these guides will help you out.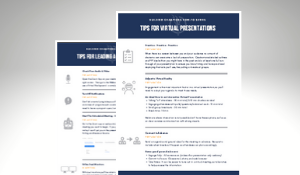 Fill out the form on this page to download both the Tips for Virtual Presentations and Tips for Leading a Zoom Meeting.